Rope Molding
1/4 Round
1/2 Round
3/4 Round
Full Round
*Custom
Un-finished only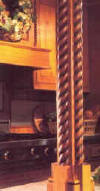 See Options Below
TAPE EASE SUPPLY LLC OFFERS ROPE MOLDING IN MANY DIFFERENT
SPECIE AND STYLES. WE ALSO HAVE Rope Accent Moldings TO GIVE YOUR DÉCOR A COMPLETE WOODEN ROPE LOOK. SEE OUR CABINET DOOR SECTION FOR APPLIED MOLDING DOORS WITH ROPE. ALSO YOU CAN FAX US YOUR DRAWINGS FOR A QUOTE ON MOST ANY CUSTOM ROPE COLUMN, 3" TO 14" Dia. AND UP TO 8' IN LENGTH. OUR LEAD-TIMES VARY FROM 1 TO 5 DAYS AND WE HAVE A $50.00 MINIMUM ON OUR ROPE MOLDING. LARGER ROPES ARE A 1 TO 3 WEEK LEAD-TIME. CUSTOM ROPE TURNINGS ARE ALSO QUOTED AS SHOWN AT RIGHT>>>>>>>>>>>
PLEASE FAX OR DRAWINGS/PICTURES FOR A QUOTE
(Include quantity, sizes, specie etc... in your quote request)



***PLEASE BE AWARE THAT SOME OF OUR ROPE PRODUCTS ARE MADE ON DIFFERENT MACHINES AND LOOK DIFFERENT DEPENDING ON THE MACHINE AND SIZES. ADVISE US IF YOU ARE DOING AN ADD-ON TO A PREVIOUS JOB OR IF YOU ARE USING MULTIPLE ROPE PRODUCTS FROM US FOR THE SAME JOB. PRICING WILL VARY FOR ROPE MOLDING THAT MUST BE MATCHED. OUR STANDARD STYLES ARE NOW SHOWN BELOW FOR EACH SIZE CATEGORY.
ROPE IS NON-RETURNABLE IF WE WERE NOT AWARE YOU ARE MATCHING A SPECIFIC STYLE.

*Click and Print our Rope Styles for easy reference
CUSTOM
ORDER
ROPE

R-4 Rope Style
3" to 14" Dia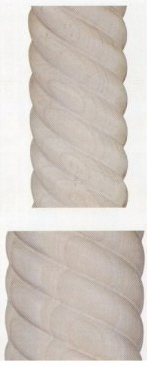 Can be Made With or Without Top & Base.
Any Style can be quoted.
Fax or E-mail Your Drawings for a Quote.