Decorative Tambour can be used for may applications.

They are NOT recommended for Tambour Doors. (See link above).

It will follow the shape of any wall or counter-front. Give real wood 3D effects in hotel lobbies, restaurants, lounges, banks, elevators, reception areas and more. It is applied with contact cement or construction adheisive.

Construction
Select hardwood lattes are glued to an impregnated paper-backer. Solid Wood Tambour provides added strength when applied to any substrate.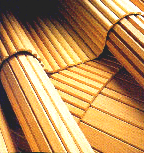 Other solid wood specie such as mahogany, white oak, teak, walnut, ash, cherry, maple and birch are available below in a few styles, or on a custom order basis. All componets are hand picked to provide the very best results for your project.
Any Tambour shown below can be made to your specific sizes by cutting and splicing Tambour pieces yourself, than using a canvas/cloth material contact cemented on the back. Any non- stretchable cloth can be obtained at a fabric shop. You roll up the tambour to cut across the slats with a power saw, use utility knife to cut in-between the slats.