SOLID MDF CABINET CORNERS
These MDF Cabinet Corners no longer carry a Packing Fee. All + Shipping
Freight Truck shipments require a $40.00 Pallet & Packing Fee + Shipping
We recommend having us do a quote with shipping cost on this product. We will quote the best cost either UPS or Freight Truck
Indicate if they can be cut down to save on shipping as well.

At this time we need to inform all of our customers about new 96in. + long box surcharges implemented by UPS and FedEx.
For our boxes that we were shipping for about $35.00 each starting July 1, 2018 they will be costing about $115.00 each.
The next best alternative for shipping is going to be cutting down the products so our box size does not exceed 96in.
Efforts to seek other alternatives or negotiate with these shipping companies is still in the works but is not going well as of yet.
Please voice your opinion with them on this matter as well. - Tape Ease Supply

FOR A QUICK RETURN QUOTE WITH SHIPPING, PLEASE SEND US ALL OF YOUR ORDER DETAILS
INCLUDING CUTTING INSTRUCTIONS: [Quotes / Samples / Questions]

ALL MDF PARTS ARE FACTORY CUT AT 97"
MDF Pre-fit "L" Quarter Rounds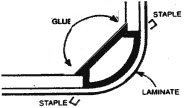 MDF Prefit "J" Quarter Rounds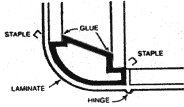 MDF Quarter Rounds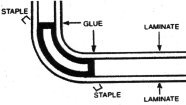 Cabinet Corners w/Flats

Any Curved Plywood Order Shipping UPS requires a $10.00 Packing Fee + Shipping
Freight Truck shipments require a $40.00 Pallet & Packing Fee + Shipping