MDF CURVED CABINET DOORS
Price List
Sorry, these are all of the doors that we carry. Custom orders are not available.

Any Curved Plywood Order Shipping UPS requires a $10.00 Packing Fee + Shipping
Freight Truck shipments require a $40.00 Pallet & Packing Fee + Shipping
We recommend having us do a quote with shipping cost on this product. Indicate if they can be cut down to save on shipping as well
FOR A QUICK RETURN QUOTE WITH SHIPPING, PLEASE SEND US ALL OF YOUR ORDER DETAILS: [Quotes / Samples / Questions]
***Please notify us when you place your order if you are stacking or matching up Curved Plywood Components.

Poplar Construction
Radius = 1/2 of Diameter
Some pieces are rough-cut longer than dimension shown
Diameter may vary up to + or - 1/8" due to climate/moisture conditions.
25pc or more may require a 4 - 6 week lead-time, inquire.
These MDF slab doors will take a high gloss Lacquer or Poly finish.
They are smooth, stable and dimensionally accurate. All can ship UPS.
MDF Quarter Rounds (Slab Door)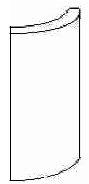 Part Number

Outside Radius

Panel Thickness

Length

1-

4


Price
5 + Price

1234Q-3448-MDF

12-3/4"
3/4"
47"
$93.93
$90.31
16Q-3448-MDF
16"
3/4"
47"
$99.45
$95.63
18Q-3448-MDF
18"
3/4"
47"
$104.95
$100.94
24Q3448-MDF
UPS Ground is
about $100.00 ea
24"
3/4"
47"
$108.29
$104.13

$10 Packaging Charge on these MDF Curves

MDF Half Round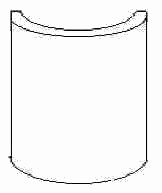 Part Number
"A" Outside Diameter
"B" Panel Thickness
Length
1 - 5 Price
5+ Price
3HSOLID96-MDF
3"
Solid
96"
$27.20
$25.50
4HSOLID96-MDF
4"
Solid
96"
$31.28
$29.32

$10 Packaging Charge on these MDF Curves
Ideal for Lacquer, Paint or Polyester Finishes
Any Curved Plywood Order Shipping UPS requires a $10.00 Packing Fee + Shipping
Freight Truck shipments require a $40.00 Pallet & Packing Fee + Shipping