Our most popular Colored Slat:
RS-RF40: 1-1/2" Aluminum double wall slat.
6 colors, with insulation.
*Quieter operation.
Min Depth required: up to 38" height: 6"
up to 60" height: 7"

Colors from top: White, Arizona Beige,
Attica Beige, Gray, Dark Bronze & Metallic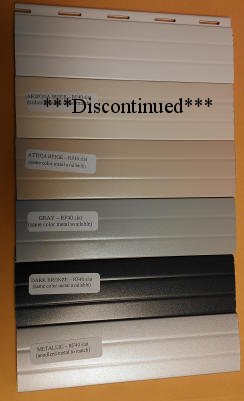 Side View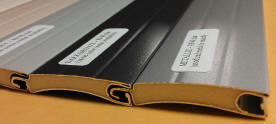 Overall Outside Dimensions including Hook:

1-7/8" x 5/16"

***More slat choices
shown below
SECURE TAMBOUR CABINET DOORS
***STRAIGHT OR CURVED RAILS***
SEE QUOTE INFO BELOW......
*Custom designs welcome. Send in you're drawings! Quote info below...
Maximum width is 80" and max height is 60".
Minimum width is 23".
Doors can only operate vertically as shown.
Horizontal sliding is not available.
Minimum Radius on custom track bends is 4" inside radius.
***Only our EX40 & RF40 Slats can be used with curved tracks.
These doors MUST HAVE a spring assist mechanism and space for it.
SECURE CABINETS LOCKING SOUNDBOARD COVERS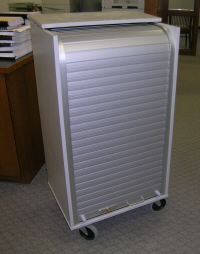 ***SORRY, DARK BRONZE COLORED BASE SLAT HANDLES ARE DISCONTINUED FOR CABINETS WITH CURVED RAILS- PROVIDING WITH ALUMINUM ONLY***

1-1/8" Track for Heavy Duty Tambour Doors
***Will bend to you're specs. 4" minimum inside radius.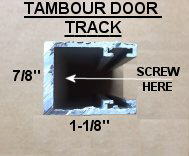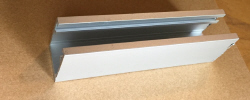 Click: [SECURE TAMBOUR DOOR INSTALLATION INSTRUCTIONS]
Please Start just below for a QUOTE
SECURE TAMBOUR CABINET DOORS:
Please include all below information for a quote.
COPY and PASTE into your request....
Please Send Pictures or Drawings if possible.

Single wall slat.
Our most popular Aluminum Slat:
RS-EX40: 1-1/2" Aluminum
*Noisier operation.
Min Depth required: up to 50" height: 6"
up to 60" height: 7"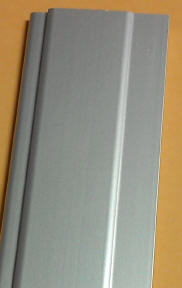 Side View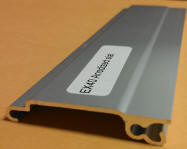 Overall Outside Dimensions including Hook:
1-3/4" x 5/16"
***More Slat choices shown below for Larger Shutter Curtains
Heavy Duty Tambour Door Quote Checklist: E-MAIL US
1. What is the door being used for?
2. Slat Part #. RF40 or EX40 and Color?
3. Exact Size Opening Width x Height & *Cabinet Depth?
4. Quantity of Doors?
5. Locking Door?
6. Tambour Door Must Have Spring asst. Mounting Spring at top front, top rear or other? (Submit Drawings)
7. Is the door covering just the front or the top also?
8. Do you require an upper fascia matching cover to hide curve?
9. Shipping & Billing addresses.

OTHER DETAILS: