Bags, Accessories, Kits, Pumps & Glue Priced on this page...See Below......


VACUUM BAG KITS

,

ACCESSORIES

AND GLUE
At last! Economical vacuum bag systems that can veneer, form curved parts
or clamp. Designed by professionals for easy use by anyone… professionals or hobbyists, and it is affordable. Based on our popular building block system that allows you to get started for a low minimum investment and to expand the systems capability as needed. Our kits shown below have everything you need to get started. Please read through all of our info below, you will find our kits, bags,
glue recommendations, tips and more...
Here is how we make it easy for you…
GETTING SET-UP
Getting the bag ready is easy! Our exclusive electronically welded through-valve on all of our bags eliminates your cutting holes in the bag and installing difficult to seal valves. First press the vacuum hose through the valve, tighten the clamp around the valve stem, and you're ready.
OUR KITS

:
Please E-MAIL US if you have questions about our Vacuum Bagging products.
____________________________________________________
MORE CHOICES, MORE POWER!!!
The Pro 6 & 10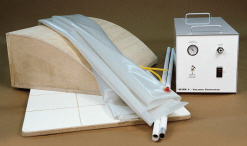 Mold and vacuum board not included.
The MARK 6 and MARK 10 are electronically regulated, completely self contained, rotary vane vacuum pumps . They do not require an air compressor to create a vacuum. These pumps have been especially modified to match them perfectly with the vacuum bag veneering, forming and clamping applications. The system is controlled by an illuminated, three position switch giving the operator the choice of having the vacuum flow continuous for clamping or cycled through the adjustable vacuum level switch for bagging. The purpose of the cycled or bagging mode is to turn off the pump once it has reached a preset level, in this case all our switches are pre set to 25"Hg, and to re-start it when the vacuum level falls. This cycling mode keeps the bag at full vacuum but doesn't allow the pump to overheat and activate the electronic, thermal relay switch that is built into each rotary vane pump as an extra protection. When using the clamping mode the pump will automatically bypass the micro switch and reach its maximum vacuum of between 26 to 27" Hg.
Pro-

6

Kit
Mark

6.5

Pump
1/4 Hp
100/115 volt, 50/60 Hz, single phase


6.

5 CFM open flow


Clamps at 1700 lbs per sq ft


38 Lbs shipping wt.

TEMPORARILY DISCONTINUED UNTIL FURTHER NOTICE


Pro-10 Kit
Mark 10 Pump
3/4 Hp
100/115, 220/240, 50/60 Hz, single phase
10 CFM open flow


Clamps at 1700 lbs per sq ft


57 Lbs shipping wt.

Included:
*Mark 6.5 Pump (Pictured above)
*54" x 109" - 20 mil Polyurethane Bag with clamps
(no discount for smaller bags)
*10 feet of vacuum hose
*Illustrated operators manual
*Exclusive "snap-lock" quick hose connector
All for $1,258.80 +Shipping
Pump only: $1,056.25 +Shipping

Included:
*Mark 10 Pump (Pictured above)
*54" x 109" 20 mil Polyurethane Bag with clamps
(no discount for smaller bags)
* 10 feet of vacuum hose
* Illustrated operators manual
* Exclusive "snap-lock" quick hose connector
* Can run up to 3 bags at one time, 3 port manifold sold below..
All for $1,674.00 + Shipping
Pump only: $1,374.00 + Shipping

VHP Pump (To Right)
The heart of any vacuum system is the pump and the VHP Pump sets the standard for every other pump in it's class on the market today and has proven to be such an exceptional pump, it is offered as an upgrade to any existing system. It is the perfect pump for frame press for large bag operation and can be manifolded for multiple bag operations.


Pump only: $2,394.00 +Shipping


VHP Pump

Specifications

:


10 cfm, 1/2 hp 110 vac, 3.4 amps
Vacuum level 29.0" Hg
Very high efficiency
Oil cooled, constant operation, rotary vane vacuum pump
60 Hz
Electronic vacuum release solenoid
Dimensions: 16" wide x 14" high x 8" deep
Very High Performance
Shipping wt: 42 lbs



Note: CFM is a measurement of how fast the pump draws air out of the bag.
Bag Upgrade? Simple. Just subtract amount for the bag shown above in your kit,
then add the price for the bag you
want shown below.

Please E-MAIL US if you have questions about our Vacuum Bagging products.
REGULATOR

:
Mark II Electronic Pump Controller


Specifically designed to automatically cycle

old

electric vacuum pumps off and on when they

reach a pre-set level of vacuum. The purpose of this cycling is to prevent the pump from overheating from prolonged use when vacuum bagging. A front panel, illuminated, three position switch allows the operator to select either the cycling mode or to bypass the vacuum level micro control switch when using it in the clamping mode. To operate you simply plug the pumps power cord and vacuum line into the back of the controller and everything after that is automatically controlled from the front panel

Specifications:
100/120 volts, 50/60Hz (220/240 available)
18 gauge, powder coated steel case
Replaceable, fused circuit protection
Heavy duty, 20 amp starter relay
16 gauge line cord with grounded plug
Pre-set to 25" Hg, adjustable micro switch
$422.50 ea
VACUUM BAGS:
We offer, as standard, in stock products ready to ship vacuum bags for veneering and forming in three different materials and a variety of sizes. Each type of material has unique properties that make them ideally suited for different applications. From the "all around" versatility and economy of vinyl, the perfect choice for the small shop and semi-professional to the higher production durability of polyurethane with its particular conforming properties to the new "fast evacuation" vinyl bags which are ideal for lamination of flat stock. In addition, we can make any size bag, to your specifications, in about five days or less. All of our bags are made with the finest materials available, to our rigid specifications and are unconditionally guaranteed against manufacturing defects.

Vinyl
Bag Specifications and Benefits:

1. Heat welded seams guaranteed not to come apart.
2. Three track, "quick-zip" closure system for easy, fast and positive bag sealing.
3. Clampless, press fit, air tight vacuum hose connection electrically welded to the bag eliminating the need to cut a hole in the bag or to use nuts and washers to seal-off the access hole.
4. Low, economical cost.
5. Completely transparent, water clear film.
6. Easy to repair tears or punctures.
7. 280 lb. tear strength resistance.
8. 2x to 3x elongation or "stretch-ability".
9. .020 Thickness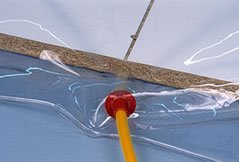 Electronically
welded through-valve

.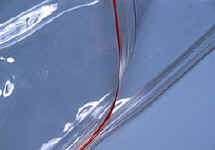 U
nique three track "quick-zip" vinyl bag closure system.
Comments:

These vinyl bags have been manufactured and sold to hundreds of satisfied customers since 1997. They have also been used as pool liners and as water bed mattresses for decades with excellent results. There has been the concern that vinyl is not as strong, or puncture resistant, as polyurethane and to a large extent that is true. However, the comparison would be better made if you said that polyurethane was like steel and vinyl was like aluminum, both very strong materials and able to withstand almost any usage. With proper care, vinyl bags will have a useful life every bit as long as any other material; plus the cost of vinyl bags is so low that many users will elect to have bags in two or three sizes, often at slightly less cost than a single polyurethane bag. This is the perfect small shop bag.


CLOSING THE BAG
The Triple Track E-Z zip Vinyl bag eliminates those difficult to use bars and clamps to seal the bag. Our "triple track" closure system makes sealing the bag a snap!

Our poly bags use a C-Clamp to seal each side, clamps are included.

Polyurethane
Bag Specifications and Benefits:

1. Seamless construction, guaranteed not to
come apart.
2. "C" clamp closure system, open both ends for
easy handling - 2 "C" clamps supplied with
each bag.
3. Electrically welded, clampless, press fit, air
tight vacuum hose connection.
4. 400 lb. tear strength resistance.
5. 4x to 6x elongation or "stretchability".
6. .020

"

or .030"

Thickness


"C" clamp closure system, standard with all poly bags.
Comments:
Polyurethane is unquestionably stronger and more durable than vinyl making it the perfect product for a hard working, production environment. Its "stretchability" also makes it ideal for highly curved or arched work. It also stays more flexible over a greater temperature range so you don't have to worry about the bag being too stiff to work with in a cool shop. Polyurethane also has a significantly greater puncture and tear resistance than vinyl which is also beneficial in a busy production area. All things being equal, both type of bags will last a very long time if proper care is exercised but for a high production application polyurethane is definitely the material of choice.
We can make any size bag to your specifications.
If you don't see what you need here please contact us for a quote.




Please E-MAIL US if you have questions about our Vacuum Bagging products.
Vacuum Bag Maximum Temperature is 180°
VACUUM BAG PRICING:
*NOW - 30mil BAGS, When Strength Matters!!!
VACUUM BAGS
(ALL SIZES IN INCHES)
VINYL
20 mil


(zip-lock)

POLYURETHANE
20 mil


(C-Bar Clamps Inc.)

POLYURETHANE


3

0 mil


(C-Bar Clamps Inc.)

24 X 36
#B2436V - $

86.00

ea
not available
not available
36 X 54
#B3654V - $

114.80

ea
not available
not available
54 X 60
#B5460

V

- $

152.60

ea
#B5460

P2

- $

230.70

ea
#B5460

P3

- $

310.43

ea
54 X 8

5

#B548

5V

- $

174.80

ea
#B548

5P2

- $

262.20

ea
#B548

5P3

- $

376.55

ea
54 X 109
#B54109

V

- $

197.90

ea
#B54109

P2

- $

313.91

ea
#B54109

P3

- $

453.98

ea
54 X 154
#B54154

V

- $

255.50

ea
#B54154

P2

- $

404.39

ea
#B54154

P3

- $

570.27

ea

13

X 98
#B

1398V

- $

128.00

ea
#B

1398P2

- $

196.20

ea
#B

1398P3

- $

299.70

ea

13

X 194
#B

13194V

- $

163.4

ea
#B

13194P2

- $

215.10

ea
#B

13194P3

- $

306.95

ea

13

X 250
#B

13250V

- $

191.00

ea
#B

13250P2

- $

291.00

ea
#B

13250P3

- $

339.14

ea
27 X 98
#B

2798V

- $

164.00

ea
#B

2798P2

- $

235.80

ea
#B

2798P3

- $

297.38

ea

27

X

19

4
#B

27194V

- $

251.40

ea
#B

27194P2

- $

261.30

ea
#B

27194P3

- $

368.14

ea
2

7

X 250
#B

27250V

- $

297.00

ea
#B

27250P2

- $

346.68

ea
#B

27250P3

- $

426.43

ea

ACCESSORIES
BF4X50 BREATHER FABRIC, FELTED POLYESTER, 4' X 50' ROLL 66.75
CB-2 "C" BAR CLAMP FOR VACUUM BAGS, 56" LONG, EACH 39.50
M c-1 3 PORT MANIFOLD, ANODIZED ALUMINUM, ¼" NPT 184.40
COMPLETE W/BALL VALVES AND 3/8" HOSE CONNECTORS
VAC HOSE 3/8" OD POLY VAC HOSE 10' 36.00
25' 55.50
50' 82.00
100' 118.00
***1/4" O.D. is also available at the same cost.
GLUE FOR VACUUM BAGGING

:
RECOMMENDED GLUE:

veneer bond dry resin (DARK OR PURE WHITE)
14oz. tub $14.35 / TUB
5 lb. tub $34.95 / TUB
25 lb. pail $97.20 / Pail

veneer bond high performance pva
16 oz. $16.25 / EA
1 qt $19.45 / EA
1 gal, capped $36.60 / EA
5 gal, TUB $128.60 / EA

PRO-GLUE "HIGH PERFORMANCE" PVA is an unconventional poly vinyl acetate that is similar to the typical yellow and white "carpenters" glue except that it has 67% solids compared to the typical glues whose solid content is 54-56%. This means that it is "stickier" creating a stronger bond since more of it stays in the joint where it is needed and it dries harder loosing much of the typical pva "creep" that is associated with the less solid brands.

veneer bond veneer softener
1 qt with trigger sprayer $27.90 / EA
16 oz w/trigger sprayer $19.85 / EA
1 gallon $42.75 / GALLON

CLICK FOR GLUE SPECS

CLICK FOR GLUE TIPS

Other Recommended Products for Vacuum Clamping:
Epoxy Resin
Hardener
Thickener, Talcum or Baby Powder
1/8" x 1/16" Disposable Plastic Trowels.
Clear Plastic Food Wrap
Box Tape
Plastic Cups and Bowls
(*Titebond2 is also used by some of our customers, some instructions below can be ignored when using Titebond2)
Mixing Instructions:
Follow MFG Instructions and/or:
1. Have plastic containers ready for mixing.
2. The hardener is mixed in at 1:5
3. Mix until a uniform color is achieved.
4. Add thickener to thicken almost to a "mayonnaise" consistency.
Vacuum Clamping:
Follow Instructions included with your machine and/or:
1. Spread out glue with trowel on your substrate, not veneer.
2. Place veneer in position on substrate. Use box tape to hold in place.
Tip: Try not to get glue resin on veneer face, will show up on when finishing.
3. Use clear plastic food wrap to cover up edges where glue will squeeze out.
4. Place project in Vacuum Bag on top of your clamping board or form.
5. Seal Vacuum Bag and turn on the Vacuum unit.
6. You should leave your project in the bag for at least 3-1/2 hrs.
Tip: Clamp time may differ with climates, longer for wood forming. See Glue MFG specs.
Clamping Boards & Forms:
A clamping board is put in your bag before clamping. Operators usually have a few different sized boards for their projects. The board is usually at least 4" larger than the project on all sides. A 3/4" 2-sided melamine board is what we recommend for the clamping board because it allows you to easily slide in and out your project. Shallow cuts must be made into this clamping board on the front and back, about 1/32" deep is fine and the hose must protrude through the bag into a hole in the edge of the clamping board that in turn, is ported into the cuts you have made. Lastly, round-over and sand the outer edges of the board and sand the shallow cuts you have made.

Forms are used for making custom curved plywood pieces or other items. These are done may different ways and made of wood. You must build your form very strong to withstand the 1700lbs per sq. ft. that the unit will supply. For custom forming, we recommend the Pro 5 kit as the smallest kit to be used.
Closing:
Vacuum Clamping is a procedure that has many different techniques. Many users have their own tricks they have perfected. Experimenting with your system can be fun and educational for individual users and profitable for your business.
Always follow manufacturer recommendations also for mixing, storage and safety warnings.
Titebond2 is a trademark of Titebond2.